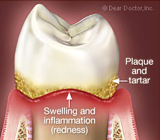 If you notice your gums bleeding when you brush your teeth, you're not alone — it's estimated that as many as 90% of the population have at some time had the same experience. That doesn't mean it's normal, though; in fact, unless you're pregnant, have a systemic condition like diabetes or take blood-thinning medication, it's more likely a sign that an infection has caused your gums to become inflamed and tender. The infection arises from a bacterial biofilm that's been allowed to accumulate on tooth surfaces due to inadequate brushing and flossing.
If not treated, the early form of this infection known as gingivitis can develop into a more serious form of gum disease in which the various tissues that help attach teeth to the jaw become infected and eventually detach. As it progresses, detachment forms voids known as periodontal pocketing between the teeth and gum tissues. The end result is receding gum tissue, bone loss and eventually tooth loss.
If you begin to notice your gums bleeding when you brush, you should make an appointment with us for an examination — and the sooner the better. During the exam we'll physically probe the spaces between your teeth and gum tissues with a periodontal probe, a thin instrument with a blunt end marked in millimeters. As we probe we'll determine the quality of the gum tissue — whether the probe inserts easily (a sign the tissues are inflamed) or gives resistance (a sign of healthy tissue). We'll also determine the degree of detachment by measuring the depth of the insertion with the millimeter scale on the probe.
The presence of bleeding during this examination is a strong indication of periodontal disease. Taking this with other signs we encounter during the exam (including the degree of pus formation in any discovered pockets) we can then more accurately determine the existence and level of advancement of the disease.
While gum disease is highly treatable, the best results occur when the condition is discovered early, before the infection severely damages tissues around the teeth. Being on the lookout for bleeding and gum tenderness and responding to it quickly can significantly simplify the necessary periodontal treatment.
If you would like more information on bleeding gums and other symptoms of gum disease, please contact us or schedule an appointment for a consultation. You can also learn more about this topic by reading the Dear Doctor magazine article "Understanding Gum (Periodontal) Disease."