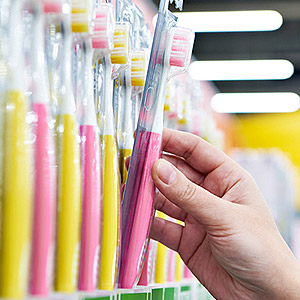 If you think there's not much difference between toothbrushes, a quick look on a retail oral care aisle might change your mind. About the only thing toothbrushes really have in common are a handle and bristled head.
Choosing the right toothbrush, therefore, might seem overwhelming. But choose you must: Your toothbrush is an essential tool in the fight against tooth decay and periodontal (gum) disease. Without it, your odds for developing dental disease skyrocket.
Along with flossing, brushing is the best way to remove daily plaque buildup, that bacterial film most responsible for dental disease. Brushing also minimizes the buildup of tartar, the hardened form of plaque that's just as harmful as softer plaque. And, brushing stimulates your gum tissues to help prevent or lessen inflammation.
But back to all those brushes—with so many options to weigh, how do you come up with your best choice? Actually, there are some basic tips that can help you narrow things down.
Bristle stiffness. Considering other cleaning chores, you might think you'll need a stiff brush. The opposite—a soft-bristled brush—is usually true. Your toothpaste's mild abrasives and the mechanical action of brushing perform most of the plaque removal. And stiffer brushes could irritate and damage your gums or tooth enamel, leading to bigger problems.
Size and shape. Through a little trial and error (and advice from your dentist), you may find a brush with an angled or tapered neck helps you get into difficult places, especially around the back teeth. If you have problems with grip, you may also opt for a brush with a large diameter handle. Bottom line: Choose a brush you feel comfortable handling.
ADA Seal of Acceptance. Common on dental product packaging, this seal indicates that after rigorous testing the item meets the high standards of the American Dental Association, and that it does what the packaging says it does. Even so, some quality brushes don't have this seal, so ask your dentist their opinion on a particular brand.
There's one more critical component—how well you use your toothbrush. For that, ask your dentist or hygienist for tips on better brushing. Combining the right brush and technique goes a long way toward avoiding dental disease.
If you would like more information on choosing the right toothbrush for you, please contact us or schedule an appointment for a consultation. You can also learn more about this topic by reading the Dear Doctor magazine article "Sizing Up Toothbrushes."