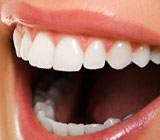 Some of the most popular smile enhancers on the market today are both over-the-counter (OTC) and professional teeth whitening products. And while studies indicate that bleaching can successfully achieve noticeable increases in whitening of stained teeth, there are some facts you need to know about these products and the results that they can deliver.
Nearly all bleaching products contain the same basic ingredient, carbamide peroxide or its breakdown product, hydrogen peroxide. However, the products our office uses to professionally whiten your teeth are much stronger without compromising the health and safety of your teeth, gums, and mouth.
OTC bleaches typically contain no more that 10% carbamide peroxide while professional bleaches can contain between 15% and 35%. And to make professional bleaching even more effective, we may use them in combination with specialized lights or lasers.
Bleaching is NOT a permanent solution and thus results will diminish over time. The "fade rate" begins to occur 6 to 12 months after treatment.
While you can't avoid the fading process, you can extend your bleaching results by avoiding foods and drinks that stain your teeth, such as red wine, red (tomato-based) sauces, coffee, tea, sodas/colas, and blueberries to name a few.
Another method for extending your results is to use a straw when drinking beverages that can stain your teeth so that the liquid does not come in contact with your teeth.
If you have visible crowns and/or veneers mixed with your natural front teeth, it may be quite difficult for you to bleach your natural teeth so that they perfectly match your veneers or crowns. Remember, tooth whitening is not effective on crowns, veneers, bridgework, or any type of artificial tooth.
One of the most common side effects of whitening teeth is tooth sensitivity and irritation of the gum tissues. They both are usually temporary and often occur when you start bleaching; however, they generally subside after a few days.
Overall, bleaching your teeth is an effective way to brighten your smile with minimal side effects. If it is something you are interested in pursuing, talk it over with us first — even if you plan to use OTC products — so that you have a clear understanding about your specific options and projected outcomes. Or, learn more by reading the Dear Doctor article, "Teeth Whitening: Brighter, Lighter, Whiter...."