Posts for: November, 2013
By New Horizons Dental
November 27, 2013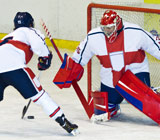 It might seem that adults who play aggressive, high-contact professional sports (ice hockey, for example) have the highest chance of sustaining dental injuries. But for many — like NHL hall-of-famer Mike Bossy — their first injured teeth came long before they hit the big time.
"The earliest [dental injury] I remember is when I was around 12," the former New York Islanders forward recently told an interviewer with the Huffington Post. That came from a stick to Bossy's mouth, and resulted in a chipped front tooth. "Unfortunately, money was not abundant back in those days, and I believe I finally had it repaired when I was 16." he said.
You may also think there's a greater chance of sustaining dental trauma from "collision sports" like football and hockey — but statistics tell a different story. In fact, according to the Academy of General Dentistry (AGD), you (or your children) are more likely to have teeth damaged while playing soccer than football — and basketball players have a risk that's 15 times higher than football players.
So — whether the game is hockey, basketball or something else — should you let the chance of dental injury stop you or your children from playing the sports they love? We think not... but you should be aware of the things you can do to prevent injury, and the treatment options that are available if it happens.
Probably the single most effective means of preventing sports-related dental injuries is to get a good, custom-made mouth guard — and wear it. The AGD says mouthguards prevent some 200,000 such injuries every year. And the American Dental Association says that athletes who don't wear mouthguards are 60 times more likely to sustain harm to the teeth than those who do.
Many studies have shown that having a custom-fitted mouthguard prepared in a dental office offers far greater protection then an off-the-shelf "small-medium-large" type, or even the so-called "boil and bite" variety. Using an exact model of your teeth, we can fabricate a mouthguard just for you, made of the highest-quality material. We will ensure that it fits correctly and feels comfortable in your mouth — because if you don't wear it, it can't help!
But even if you do have an injury, don't panic: Modern dentistry offers plenty of ways to repair it! The most common sports-related dental injuries typically involve chipped or cracked teeth. In many cases, these can be repaired by bonding with tooth-colored composite resins. For mild to moderate injury, this method of restoration can produce a restoration that's practically invisible. It's also a relatively uncomplicated and inexpensive procedure, which makes it ideal for growing kids, who may elect to have a more permanent restoration done later.
If you have questions about mouthguards or sports-related dental injuries, please contact us or schedule an appointment for a consultation. You can learn more in the Dear Doctor magazine articles "Athletic Mouthguards," and "An Introduction to Sports Injuries & Dentistry."
By New Horizons Dental
November 12, 2013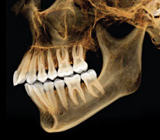 From its development and first use over a century ago, radiography — the use of x-rays to view internal images in the body — has revolutionized how dentists diagnose and treat patients. Now, a new technology known as Cone Beam Computing Tomography (CBCT) promises to take us "light years" beyond even today's most modern conventional x-ray devices.
X-rays expose images on special film after passing through a mass, like the human body. Because they pass more easily through soft tissues than through hard structures like teeth or bone, the softer tissues will appear darker. This property can reveal even subtle distinctions in density such as might be the case with a fracture or a tooth cavity.
Standard radiography, though, has its limitations. It takes extensive training and experience for a dentist to interpret exactly what they're seeing in an x-ray. Their two-dimensionality (like a photograph) limits the amount of information we can derive from the physical structures being examined. And due to radiation exposure to patients, we must limit the amount of their use for each individual patient.
CBCT improves on those limitations. The device projects a cone-shaped beam of x-rays as it rotates around a patient's head. During this rotation it records hundreds of images that a computer can later digitally format in a variety of ways. The result: instead of a two-dimensional flat view, we can now three-dimensionally view the mouth from a variety of different angles and in greater detail. Best of all, one scan can provide enough imagery data to view in detail the entire skull or a jaw, or something as minute as a single root canal within a tooth.
CBCT is already improving the accuracy of diagnostics and treatment in a variety of dental specialties, including orthodontics, implantation and oral surgery. And properly set, the radiation exposure is no more or less than a full-mouth series of x-rays, and up to ten times less than CT scanning.
Advances like CBCT increase the range and accuracy of diagnostics and improve treatment for a variety of conditions. As they grow in use, the result will be more successful dental outcomes for you and your family.
If you would like more information on CBCT diagnostics, please contact us or schedule an appointment for a consultation. You can also learn more about this topic by reading the Dear Doctor magazine article "Getting the Full Picture With Cone Beam Dental Scans."