Posts for: April, 2014
By New Horizons Dental
April 17, 2014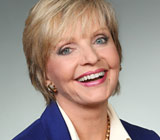 Florence Henderson has inspired generations of people through her portrayal of America's most beloved TV mother, Carol Brady, on one of the longest running situational comedies, The Brady Brunch. Today Florence is still a role model but for a much different audience: senior citizens.
Henderson created the FloH Club as an organization to assist senior citizens with understanding and embracing technology, as she described in an interview with Dear Doctor magazine. "I was inspired to create the FloH Club because of my own fear of technology and because I didn't want to keep asking my children for help," she said.
And while Henderson was blessed with naturally straight teeth and has had no cosmetic work done, she is not opposed to it. "I wouldn't care how old I was, if I had misaligned teeth or felt I needed cosmetic dentistry I would certainly do it!"
One teeth-straightening option many adults consider is clear orthodontic aligners. They are an excellent way for self-conscious adults to align their teeth without feeling that they will appear as an awkward "brace-faced" youth — a look that is commonplace for the teenage years.
But what are clear aligners? They are an alternative system to traditional braces that use a sequence of individual, custom-fitted trays that are clear and removable to gradually straighten teeth. They are usually recommended for correcting mild to moderate spacing problems or crowding of the teeth, and for cases in which there are no major issues with your bite (i.e., your back teeth fit together properly and biting forces are distributed evenly on all of your teeth).
To learn more about this method of aligning teeth, you can continue reading the Dear Doctor magazine article "Clear Orthodontic Aligners." Or you can contact us today to schedule an appointment so that we can conduct a thorough examination and discuss what treatment options will be best for you. And to read the entire interview with Florence Henderson, please see the Dear Doctor article "Florence Henderson."
By New Horizons Dental
April 02, 2014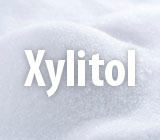 Refined table sugar (sucrose) has been in the health spotlight for some time now. While its effects on nutrition and general health are just now gaining attention, its effect on dental health, particularly as a food source for bacteria that cause tooth decay, has been known for decades.
In recent years, though, a different kind of natural sugar known as xylitol has come into popularity. Mutans Streptococci, the main bacteria responsible for tooth decay, is unable to break down and consume this alcohol-based sugar as it can with sucrose. What's more, there's evidence that xylitol can actually "starve" the offending bacteria and reduce its levels in the mouth. Xylitol also helps to reduce the level of acid in saliva and supports this vital fluid in its role of balancing the mouth's pH level. By helping maintain a more pH neutral environment, xylitol can help prevent decay from even starting and promote the production of bacteria that doesn't produce acid.
One of the most prevalent ways to include xylitol in your diet is through chewing gum. Researchers have found xylitol chewing gum can significantly reduce the risk of tooth decay, especially by inhibiting the decay process. Its reaction with saliva also contributes to the process of hardening the mineral content of enamel, a further inhibition to tooth decay.
Depending on your risk factors for dental disease, we might direct you to chew two pieces of xylitol gum for five minutes after meals and snacks, up to four times a day. Our target dose is about one to two teaspoons spread out during the day. If chewing gum is problematic or undesirable, it's also possible to receive the recommended dosage of xylitol through hard candy, mints and oral products like toothpaste, mouthwash or sprays that contain the sugar.
Depending on your risk factors, a daily dosage of xylitol in chewing gum and other products can change the environment in your mouth for the better. A few minutes of gum chewing after meals and snacks might provide you the winning edge in the battle against tooth decay.
If you would like more information on the benefits and uses of xylitol, please contact us or schedule an appointment for a consultation. You can also learn more about this topic by reading the Dear Doctor magazine article "Xylitol in Chewing Gum."