Posts for: September, 2014
By New Horizons Dental
September 23, 2014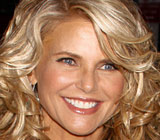 Model Christie Brinkley's smile has been a symbol of America's optimism since the seventies. Particularly well known for being the cover model for three consecutive Sports Illustrated Swimsuit editions, Brinkley still has a fresh-faced American girl-next-door beauty that starts with her cheerful smile, which transmits the message that all is well.
Brinkley's modeling career began when she was "discovered" in Paris in the seventies, at the age of 18. As she explained in an interview with Dear Doctor magazine, it was like a fairy tale. She had gone to study art in Paris, where a fashion designer spotted her walking down the street. "He told me later he immediately thought, 'That's the girl!'" she said.
Brinkley attributes her famous smile to a combination of good genetics (she inherited her mother's "beautiful straight teeth"), combined with the intelligence to practice good oral hygiene and have regular dental appointments. She never needed to have work done to prepare her for the modeling life; but as a teenager, she said, she wished she could wear braces because she thought the "coolest kids had them."
Although dental restorations were not needed to enhance her beautiful natural smile, she did have two dental implants after she fractured two rear molars in a bad helicopter crash while back-country skiing, and she says she is thankful for dental implant technology because it looks and feels so natural.
Brinkley said that her smile led directly to her assignment as spokesperson for a brand of oral rinse and mouthwash products. She is also concerned about the environment. Her company Christie, Inc. is designing environmentally friendly products.
Her advice to everyone is to smile more. "I think a smile makes EVERYONE beautiful! It's the greatest gift we give each other... It's an expression of friendship, love and peace!"
If you have questions about your smile, contact us today to schedule an appointment. Or you can learn more by reading the Dear Doctor magazine article "Christie Brinkley's Supermodel Smile."
By New Horizons Dental
September 08, 2014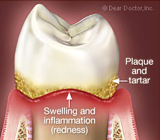 If you notice your gums bleeding when you brush your teeth, you're not alone — it's estimated that as many as 90% of the population have at some time had the same experience. That doesn't mean it's normal, though; in fact, unless you're pregnant, have a systemic condition like diabetes or take blood-thinning medication, it's more likely a sign that an infection has caused your gums to become inflamed and tender. The infection arises from a bacterial biofilm that's been allowed to accumulate on tooth surfaces due to inadequate brushing and flossing.
If not treated, the early form of this infection known as gingivitis can develop into a more serious form of gum disease in which the various tissues that help attach teeth to the jaw become infected and eventually detach. As it progresses, detachment forms voids known as periodontal pocketing between the teeth and gum tissues. The end result is receding gum tissue, bone loss and eventually tooth loss.
If you begin to notice your gums bleeding when you brush, you should make an appointment with us for an examination — and the sooner the better. During the exam we'll physically probe the spaces between your teeth and gum tissues with a periodontal probe, a thin instrument with a blunt end marked in millimeters. As we probe we'll determine the quality of the gum tissue — whether the probe inserts easily (a sign the tissues are inflamed) or gives resistance (a sign of healthy tissue). We'll also determine the degree of detachment by measuring the depth of the insertion with the millimeter scale on the probe.
The presence of bleeding during this examination is a strong indication of periodontal disease. Taking this with other signs we encounter during the exam (including the degree of pus formation in any discovered pockets) we can then more accurately determine the existence and level of advancement of the disease.
While gum disease is highly treatable, the best results occur when the condition is discovered early, before the infection severely damages tissues around the teeth. Being on the lookout for bleeding and gum tenderness and responding to it quickly can significantly simplify the necessary periodontal treatment.
If you would like more information on bleeding gums and other symptoms of gum disease, please contact us or schedule an appointment for a consultation. You can also learn more about this topic by reading the Dear Doctor magazine article "Understanding Gum (Periodontal) Disease."