Posts for: November, 2014
By New Horizons Dental
November 26, 2014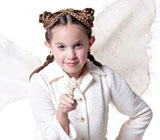 The Tooth Fairy has been easing the process of losing baby teeth for hundreds of years — at least 500 years according to one authority on the subject. Her name is Brady Reiter, and while she looks only age 11 in earth years, she is actually a 500-year-old Tooth Fairy; at least she plays one on DVD.
Brady is the star of Tooth Fairy 2, a new DVD comedy also starring Larry the Cable Guy as a novice Tooth Fairy doing penance for questioning the existence of the magical sprite who leaves payment under pillows for lost teeth.
In a charming interview with Dear Doctor magazine, Brady says it wasn't very difficult to play an ancient tooth fairy trapped in a child's body.
"I'm kind of more mature than an average 11-year-old because I have older brothers and sisters," Brady told Dear Doctor. "It was kind of just connecting with my inner 500-year-old. It was very fun to play a character like that!"
Brady also enjoyed working with Larry, who dons a pink tutu and fluffy wings for his role.
"In hair and makeup every morning, he'd be making all these jokes," she said. "He just cracked us up 100 percent of the time!"
But as much fun as Brady had on the set, her character, Nyx, is all business. And that's how Brady, who recently lost her last baby tooth, has always believed it should be.
"My whole life I thought the Tooth Fairy is just like Nyx," Brady said. "They know what to do, they come in, they're professionals, you don't see them and they never make a mistake and forget your tooth. Just like Santa Claus, tooth fairies are very professional."
Brady also told Dear Doctor that she is very excited to be helping the National Children's Oral Health Foundation fight childhood tooth decay as spokesfairy for America's ToothFairy Kids Club. The club offers kids personalized letters from the Tooth Fairy along with lots of encouraging oral health tips and fun activities.
If you would like to enroll your child in the club — it's free! — please visit www.AmericasToothFairyKids.org. And to make sure your child's teeth and your own are decay-free and as healthy as possible, please contact us to schedule your next appointment.
By New Horizons Dental
November 11, 2014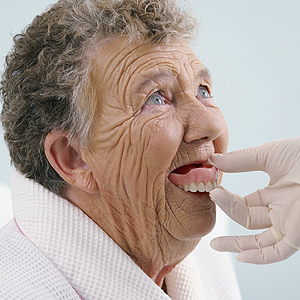 When you first received your removable dentures the fit was firm and comfortable. Lately, though, they've become loose, making it difficult to eat or speak without slippage.
The problem may not be with your denture, but with bone loss. Human bone goes through a natural cycle of dissolving (known as resorption) and new growth to take the lost bone's place. The jawbone receives further stimulation to grow from the forces generated by natural teeth when we bite or chew.
When natural teeth are missing, however, the jawbone lacks this stimulation, which over time results in bone loss and gum tissue shrinkage. Traditional dentures can't transmit this stimulating force to the jawbone either, so the bone and gum structure under a denture will also shrink. This results in a looser fit for the denture.
The simplest option to correct a loose-fitting denture (especially if it's the first occurrence) is to reline the dentures with additional material to re-form the fit to the new conditions in the mouth. A permanent relining will require sending your dentures to a dental laboratory to apply the new material based on a mold of your current anatomy beneath the denture.
If, however, your dentures have already undergone a few relinings, or after examining your gums we determine a relining won't provide the fit and stability needed, then it may be time for a new denture. Although this is more costly than a relining, a new appliance could provide a more accurate fit to the current contours in your mouth.
The latter option may also give you a chance to benefit from advancements in denture technology or materials since you received your current denture. One such advancement is a removable denture that's supported by implants. It's possible to achieve this new supporting foundation for the denture with as few as two strategically-placed implants in the lower jaw.
If you've begun to notice denture looseness, be sure to make an appointment for an examination. From there, we can advise you on what will work best in your particular case.
If you would like more information on your options regarding removable dentures, please contact us or schedule an appointment for a consultation. You can also learn more about this topic by reading the Dear Doctor magazine article "Loose Dentures."