Posts for: October, 2020
By New Horizons Dental
October 18, 2020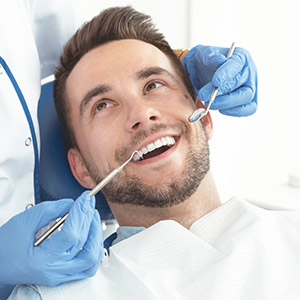 Tooth decay is more prevalent than diseases like cancer, heart disease or influenza. It doesn't have to be—brushing with fluoride toothpaste, flossing, less dietary sugar and regular dental cleanings can lower the risk of this harmful disease.
Hygiene, diet and dental care work because they interrupt the disease process at various points. Daily hygiene and regular dental cleanings remove dental plaque where oral bacteria flourish. Reducing sugar eliminates one of bacteria's feeding sources. With less bacteria, there's less oral acid to erode enamel.
But as good as these methods work, we can now take the fight against tooth decay a step further. We can formulate a prevention strategy tailored to an individual patient that addresses risk factors for decay unique to them.
Poor saliva flow. One of the more important functions of this bodily fluid is to neutralize mouth acid produced by bacteria and released from food during eating. Saliva helps restore the mouth's ideal pH balance needed for optimum oral health. But if you have poor saliva flow, often because of medications, your mouth could be more acidic and thus more prone to decay.
Biofilm imbalance. The inside of your mouth is coated with an ultrathin biofilm made up of proteins, biochemicals and microorganisms. Normally, both beneficial and harmful bacteria reside together with the "good" bacteria having the edge. If the mouth becomes more acidic long-term, however, even the beneficial bacteria adapt and become more like their harmful counterparts.
Genetic factors. Researchers estimate that 40 to 50 hereditary genes can impact cavity development. Some of these genes could impact tooth formation or saliva gland anatomy, while others drive behaviors like a higher craving for sugar. A family history of tooth decay, especially when regular hygiene habits or diet don't seem to be a factor, could be an indicator that genes are influencing a person's dental health.
To determine if these or other factors could be driving a patient's higher risk for tooth decay, many dentists are now gathering more information about medications, family history or lifestyle habits. Using that information, they can introduce other measures for each patient that will lower their risk for tooth decay even more.
If you would like more information on reducing your risk of tooth decay, please contact us or schedule an appointment for a consultation. You can also learn more about this topic by reading the Dear Doctor magazine article "What Everyone Should Know About Tooth Decay."
By New Horizons Dental
October 08, 2020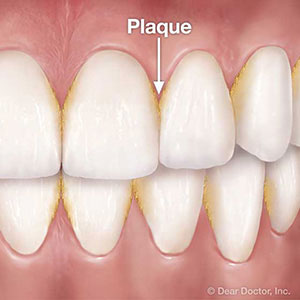 When you floss (you do floss, right?), you probably notice a sticky, yellowish substance called plaque stuck to the thread. This thin film of tiny food particles and bacteria is the reason you floss and brush in the first place: Because it's the main trigger for tooth decay and gum disease, removing it decreases your risk for disease.
But this isn't the only form of plaque you should be concerned about. That same sticky substance can also interact with your saliva and harden into what's commonly known as tartar. Dentists, however, have a different term: They refer to these calcified deposits as calculus. And it's just as much a source of disease as its softer counterpart.
You might have noticed that this form of plaque has the same name as an advanced type of mathematics. Although dental calculus has little in common with algebra's cousin, both terms trace their origins back to the same linguistic source. The word "calculus" in Latin means "small stone;" it became associated with math because stone pebbles were once used by merchants long ago to calculate sales and trades.
The term became associated with the substance on your teeth because the hardened plaque deposits resemble tiny stones or minerals—and they can be "as hard as a rock" to remove. In fact, because they adhere so firmly it's virtually impossible to remove calculus deposits with brushing or flossing alone. To effectively eliminate calculus from tooth surfaces (including under the gum line) requires the skills and special dental tools of dentists or dental hygienists.
That's why we recommend a minimum of two dental cleanings a year to remove any calculus buildup, as well as any pre-calcified plaque you might have missed with daily hygiene. Reducing both plaque and calculus on your teeth fully minimizes your risk of dental disease. What's more, removing the yellowish substance may also brighten your smile.
That's not to say daily brushing and flossing aren't important. By removing the bulk of plaque buildup, you reduce the amount that eventually becomes calculus. In other words, it takes both a daily oral hygiene practice and regular dental visits to keep your teeth healthy and beautiful.
If you would like more information on best oral hygiene practices, please contact us or schedule an appointment for a consultation.