Posts for: September, 2021
By New Horizons Dental
September 13, 2021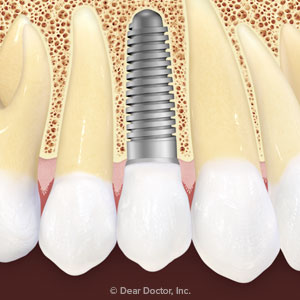 Getting dental implants is going to require surgery. But don't let that concern you—it's a relatively minor procedure.
Currently the "gold standard" for tooth replacement, an implant consists of a titanium post surgically imbedded in the jawbone. We can affix a life-like crown to a single implant or support a fixed bridge or removable denture using a series of them.
Because placement will determine the restoration's final appearance, we must carefully plan implant surgery beforehand. Our first priority is to verify that you have adequate jawbone available to support an implant.
Additionally, we want to identify any underlying structures like nerves or blood vessels that might obstruct placement. We may also develop a surgical guide, a retainer-like device placed in the mouth during surgery that identifies precisely where to create the holes or channels for the implants.
After numbing the area with local anesthesia, we begin the surgery by opening the gum tissue with a series of incisions to expose the underlying bone. If we've prepared a surgical guide, we'll place it in the mouth at this time.
We then create the channel for the insert through a series of drillings. We start with a small opening, then increase its size through subsequent drills until we've created a channel that fits the size of the intended implant.
After removing the implant from its sterile packaging, we'll directly insert it into the channel. Once in place, we may take an x-ray to verify that it's been properly placed, and adjust as needed. Unless we're attaching a temporary crown at the time of surgery (an alternate procedure called immediate loading), we suture the gums over the implant to protect it.
Similar to other dental procedures, discomfort after surgery is usually mild to moderate and manageable with pain relievers like acetaminophen or ibuprofen (if necessary, we can prescribe something stronger). We may also have you take antibiotics or use antibacterial mouthrinses for a while to prevent infection.
A few weeks later, after the bone has grown and adhered to the implant surface, you'll return to receive your new permanent crown or restoration. While the process can take a few months and a number of treatment visits, in the end you'll have new life-like teeth that could serve you well for decades.
If you would like more information on dental implants, please contact us or schedule an appointment for a consultation. You can also learn more about this topic by reading the Dear Doctor magazine article "Dental Implant Surgery."
By New Horizons Dental
September 03, 2021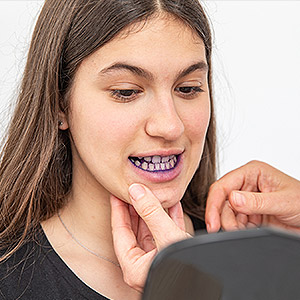 You've just finished your daily brushing and flossing. How did you do? Swiping your tongue across your teeth can generally tell you: It's a good sign if it glides smoothly; but if it feels rough and gritty, you better take another run at it.
This "tongue test," however, only gives you a rough idea of how well you're removing plaque, that thin bacterial film on teeth most responsible for dental disease. Plaque, though, can be sneaky, "hiding" in the nooks and crannies on the biting surfaces of teeth, around the gum line and in between teeth.
So, how do you know if you're clearing out any plaque holdouts? An effective way is to use a plaque disclosing agent. This over-the-counter dental product consists of a swab, tablet or solution, which contains a dye that's reactive to plaque.
After brushing and flossing as usual, you apply the solution to your teeth for about 30 seconds. You then take a look in the mirror: Any remaining plaque will be stained a bright color that makes it stand out. There are also agents with two colors of dye, one that stains older plaque and one for newer plaque.
The plaque staining not only helps you see how well you've been brushing and flossing, it can also show you areas in need of improved hygiene. For example, if you notice a scalloped pattern around the gum line, that may mean your brush isn't getting into that area effectively. In this way, you can use a disclosing agent to fine-tune your hygiene.
Repeated use of a disclosing agent is safe, but just remember the dye color can be vivid. It does wear off in a few hours, though, so perhaps schedule it for a day off around the house. You should also avoid swallowing any solution or getting any of it on clothing.
The ultimate test, though, is a thorough dental cleaning with your dentist at least every six months. They can verify whether you've been fairly successful with your brushing and flossing, or if you have room for improvement. If you do use a disclosing agent, you can also discuss that with them in working out better strategies to protect your teeth from tooth decay and gum disease.
If you would like more information on improving your oral hygiene, please contact us or schedule an appointment for a consultation. You can also learn more about this topic by reading the Dear Doctor magazine article "Plaque Disclosing Agents."