Posts for tag: dry mouth
By New Horizons Dental
September 18, 2020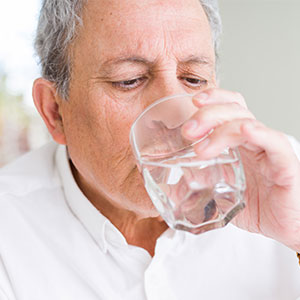 You might be noticing some changes as you get older: You're getting winded easier and you're wondering why book or magazine print has suddenly shrunk (it didn't). Perhaps you've also noticed your mouth seems drier more often.
It could be a condition called xerostomia, in which your body isn't producing enough saliva. Older people are more prone to it because it's often a side effect of prescription drugs that can inhibit saliva production. Because seniors tend to take more medications than other age groups, xerostomia is a more common problem for them.
Xerostomia isn't a pleasant experience. More importantly, it's hazardous to your oral health. Saliva contains antibodies that fight bacterial infection, and it also neutralizes mouth acid that causes tooth decay. A lack of saliva puts you at greater risk for both tooth decay and gum disease.
Fortunately, there are things you can do to alleviate or ease the effects of xerostomia.
Cut back on spicy foods and caffeinated beverages. Spicy or salty foods can irritate your gum tissues and worsen dry mouth symptoms. Because it's a diuretic, caffeine causes you to lose more fluid, something you can't afford with xerostomia. Cutting back on both will improve your symptoms.
Drink more water. Increasing your daily water intake can help you produce more saliva. It also washes away food particles bacteria feed on and dilutes acid buildup, which can reduce your risk for dental disease.
Talk to your doctor and dentist. If you're taking medications with dry mouth side effects, ask your doctor about other alternatives. You can also ask your dentist about products you can use to boost saliva production.
Practice daily hygiene. Daily hygiene is important for everyone, but especially for those whose saliva flow is sub-par. Brushing and flossing clear away dental plaque, the top cause for dental disease. Along with regular dental visits, this practice can significantly reduce your risk for tooth decay and gum disease.
Taking these steps can help you avoid the discomfort that often accompanies xerostomia. It could also help you prevent diseases that could rob you of your dental health.
If you would like more information on dealing with dry mouth, please contact us or schedule an appointment for a consultation. You can also learn more about this topic by reading the Dear Doctor magazine article "10 Tips for Dealing With Dry Mouth."
By New Horizons Dental
September 24, 2019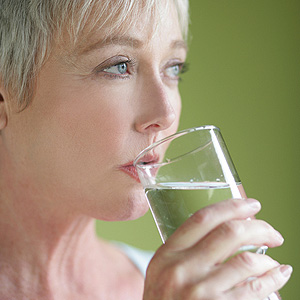 Perhaps you haven't thought of it quite this way, but saliva is one of the true wonders of the human body. This unassuming fluid performs a variety of tasks to aid digestion and help protect your mouth from disease. And you hardly notice it — except when it's not there.
That's the case for millions of people in America who have a chronic condition called xerostomia or "dry mouth." This happens when the salivary glands don't secrete enough saliva, normally two to four pints daily.
Of course, we can experience mouth dryness when we first wake up (saliva flow ebbs while we sleep), feel stressed, use tobacco, or consume alcohol and certain foods like onions or spices. It becomes a problem, though, when periods of low saliva become chronic. Without its preventive capabilities, you'll be at much higher risk for dental diseases like tooth decay or periodontal (gum) disease.
Chronic dry mouth can occur for various reasons: systemic diseases like cancer or autoimmune deficiencies can cause it, as well as radiation or chemotherapy treatments. One of the most common causes, though, is medication, both over-the-counter and prescription. The surgeon general identifies over 500 known drugs that may inhibit saliva production, including some antihistamines, diuretics and antidepressants. It's often why older people who take more medications than younger people suffer more as a population from dry mouth.
Because of its long-term health effects, it's important to try to boost saliva flow. If your mouth is consistently dry, try to drink more fluids during the day. If you suspect your medication, see if your physician can prescribe a different drug. It also helps to drink a little water before and after taking oral medication.
We may also recommend medication or other substances that stimulate saliva or temporarily substitute for it. Xylitol, a natural alcohol sugar that also inhibits bacterial growth, can help relieve dryness. You'll often find it in gums or mints.
Chronic dry mouth is more than a minor irritation — it can lead to more serious conditions. In addition to these tips, be sure to also keep up your regular dental visits and maintain a daily schedule of oral hygiene to prevent dental disease.
If you would like more information on overcoming dry mouth, please contact us or schedule an appointment for a consultation. You can also learn more about this topic by reading the Dear Doctor magazine article "Dry Mouth: Learn about the Causes and Treatment of this Common Problem."
By New Horizons Dental
December 30, 2013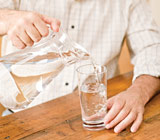 You hardly notice the moist environment of your mouth — unless it becomes uncomfortably dry. Some instances of dry mouth are quite normal — when you first wake in the morning after reduced saliva flow during sleep, when you're stressed, or when you're dehydrated and need fluids. But some are not normal — millions of people, in fact, suffer from a chronic inadequacy of saliva production and flow.
Chronic dry mouth (or xerostomia) can have a greater effect on your oral health than discomfort. Saliva performs a number of tasks for the body: its enzymes help break down food before digestion; its antimicrobial properties help reduce harmful bacteria and its buffering ability helps neutralize acid, both of which reduce the risk of tooth decay.
There are a number of causes for chronic dry mouth. One of the most common arises as a side effect of over 500 medications, both prescription and over-the-counter. The major contributors to dry mouth fall into three main types: antihistamines, used to treat allergies; diuretics, prescribed to cardiac patients to drain excess fluid; and antidepressants. Diseases like Diabetes, Parkinson's disease, or AIDS can also cause dry mouth. Some treatments can too — persons undergoing head or neck radiation or chemotherapy may experience dry mouth.
If you've noticed dry mouth over several days, it's a good idea to visit us for an exam. Our first step is to try to determine the extent and cause of the condition. Depending on what we find, we can then recommend a treatment path that includes some changes in habit and prescribed medications. For example, if lack of hydration is contributing to dry mouth, we would recommend drinking an adequate amount of water, as well as cutting back on caffeinated or acidic beverages. We might also prescribe medication to stimulate saliva flow. Consuming foods that contain xylitol, a natural sugar substitute, may also do the same.
It's also important that you maintain a good oral hygiene regimen and regular dental checkups and cleanings. Good oral hygiene and the proper treatment for chronic dry mouth will greatly reduce your risk of tooth decay and other diseases.
If you would like more information on the causes and treatment of dry mouth, please contact us or schedule an appointment for a consultation. You can also learn more about this topic by reading the Dear Doctor magazine article "Dry Mouth."